---
---
Description:
Please check the product picture , fitment and the part number before you order it.If you are not sure, please feel free to contact with us before you order it .otherwise we will not refund you money if you make a wrong order,thanks a lot .

【No sensor programming Required】 : The Tire Pressure Sensor is 100% new and come pre-programmed specifically for your make/model/year of vehicle,need activate them by scal tool or "re-learning".

We focus on high quality products.

Each item is strictly tested before shipment.
SPECIFICATION :
Part Number :13516164
Replace For Part Number: 13516164 13598771 13598772 13586335 20923680
Battery Life: ABOUT 5-10 YEARS
Operating Frequency: 315MHz
Weight:108g
Package Include:
4 x TPMS(Tire Pressure Monitoring Sensor)
Application
For Chevrolet Blazer(from 2019-01 to 2020-02)
For Chevrolet Bolt(from 2019-01 to 2020-02)
For Chevrolet Cruze(from 2019-01 to 2019-10)
For Chevrolet Equinox(from 2018-01 to 2018-07)
For Chevrolet Equinox(from 2018-01 to 2020-02)
For Chevrolet Malibu(from 2019-01 to 2020-02)
For Chevrolet Silverado(from 2018-01 to 2018-12)
For Chevrolet Silverado Hd(from 2018-01 to 2019-08)
For Chevrolet Spark(from 2019-01 to 2020-02)
For Chevrolet Suburban(from 2018-01 to 2020-02)
For Chevrolet Tahoe(from 2018-01 to 2020-02)
For Chevrolet Trax(from 2018-01 to 2020-02)
For Buick Envision(from 2018-01 to 2020-01)
For Cadillac Ct6(from 2019-01 to 2020-01)
For Cadillac Escalade(from 2018-01 to 2020-02)
For Cadillac Escalade Esv(from 2018-01 to 2020-02)
For Cadillac Xt6(from 2019-06 to 2020-02)
For GMC Sierra(from 2018-01 to 2019-05)
For GMC Sierra Hd(from 2018-01 to 2019-08)
For GMC Terrain(from 2017-07 to 2020-02)
For GMC Terrain(from 2017-11 to 2018-08)
For GMC Yukon(from 2018-01 to 2020-02)
Installation process: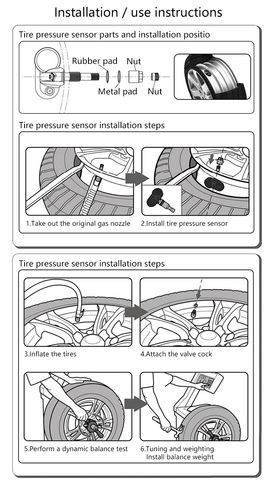 ---